Debreceni kolbász (or Debrecener) is a reddish-orange pork sausage of uniform fine texture and reddish-orange color, named after the Hungarian city of Debrecen, getting its color from paprika, one of the spices used in its preparation. Other seasonings used in Debreceni kolbász are garlic, pepper, and marjoram.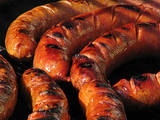 It is usually unsmoked or lightly smoked, and sold in pairs joined at one end. Traditional cooking technique calls for the Debreceni to be transversely slashed at intervals and baked, broiled, or fried. The sausage tends to curl away from the slashes, creating a linked series of sausage coins.[1]. The sausage is named after the city of Debrecen. It is customarily used in dishes like lecsó.
References
Edit
↑ Gergely, Aniko (2006). Culinaria Hungary. Budapest, Hungary: Tandem Verlag. pp. 42. ISBN 978-3-8331-4996-2.

 
Ad blocker interference detected!
Wikia is a free-to-use site that makes money from advertising. We have a modified experience for viewers using ad blockers

Wikia is not accessible if you've made further modifications. Remove the custom ad blocker rule(s) and the page will load as expected.